Here, as purchased
As received it didn't light or whistle of course.

Work on the mechanism will begin soon. The bellows is shot and will be repaired.

These scuffs and scratches will be corrected.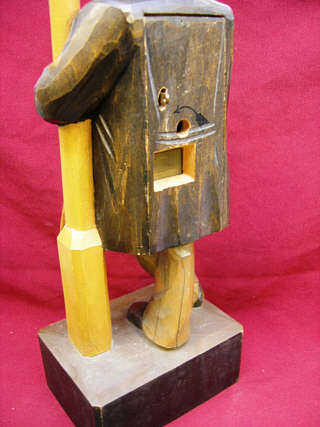 As of this writing, I have seen one other example of this whistler, each are unique, hand carved, and painted.
This one is in very good cosmetic condition as can be seen in this photo.
Cleaned and with lighting repaired.
On the right there is a alignment mark and the #37 , which is the tune he whistles.
The tune is "Show me the way back home" (Since it's hand carved, that bottom door only fits in one direction hence the "X")

---
The following photos show the above whistler in the process of being restored.
Here is the movement and bellows with original covering Here is the inside of the whistler and mounting plate.

Note the nails inside the limewood* carving at the top. These act as stops for the turning head and the one all the way to the left stops the movement/mechanism from sliding up. The mechanism is removed by moving that nail out of the way and sliding the mechanism toward the top and lifting up.
The metal bar at a right angle at the top is what connects to the head and allows it's motion left and right.

Bellows & Whistle, original covering gone Internal bellows valves (new style) This is the whistle valve exposed
These pins secure the lamp post top This is the lamp post bulb Here on the bottom marked "70" (1970)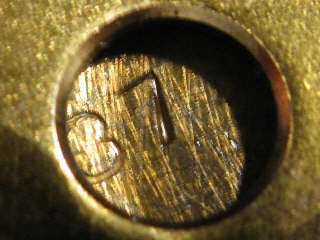 This shows the dump valve This is the contact for the lamp post bulb This is the song ID # 37
Front and back
All nicks and scrapes have been corrected, some of which can be seen in the photos at the top of this page.
Here is a whistler tune list.
I put this together from all the data I could find. If anyone knows better translations, or the missing song titles, or other info, email me.
Additional information will be added here, in the future.
* Limewood is a european version of basswood. Basswood is a common choice in America for carving. Though limewood may differ in color and hardness.