This is how it was initially presented.
However it turned out to be almost completely disassembled with some exceptions.
When buying things from a distance its difficult to know what the actual condition is until it's in your possession.
To be fair, the seller provided a lot of photos he took during his disassembly.
Because the base and machine were put together with finger tight bolts for shipping it arrived with some additional issues because they separated in transit!
First order of business was to evaluate it and come up with a plan to address it's issues.
.
` Some issues discovered: Some serious rust in a few places. Base Bottom, cabinet inside bottom and underside, one pull knob assy, and candy display tray
Base door, attempted repair poor.
Door latches removed , broken off
Cabinet triangular base foot mounting and foot missing on one side
Hasp holes drilled in cabinet and major denting of cabinet in this area
Holes drilled on back to mount to wall
Mounting screw for front glass access plate snapped off on one side
Threaded post on one stainless mirror trim mounting snapped off
Bottom edge of main cabinet split at both front corners, because the cabinets separated during transit
Additional damage on the front of the base was also there because the base and cabinet separated
Base adjustment leveler screws so rusted they fused to the base
All original parts are there (except the base cabinet foot, triangle mounting plate and door latches).
The parts are either on the machine or in zip lock bags supplied with the machine.
The rest of the things found were what you might expect and not unusual since it was made in 1947
Though not easily seen in the next photo, at the top is a stamped number the first 2 digits indicating the year it was built 47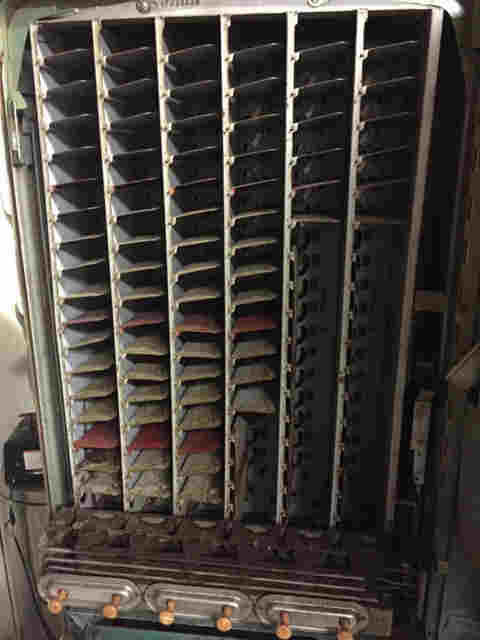 These 2 photos supplied by the previous owner, before the pull knobs, stainless plates, and pull assy's were removed as supplied in bags when purchased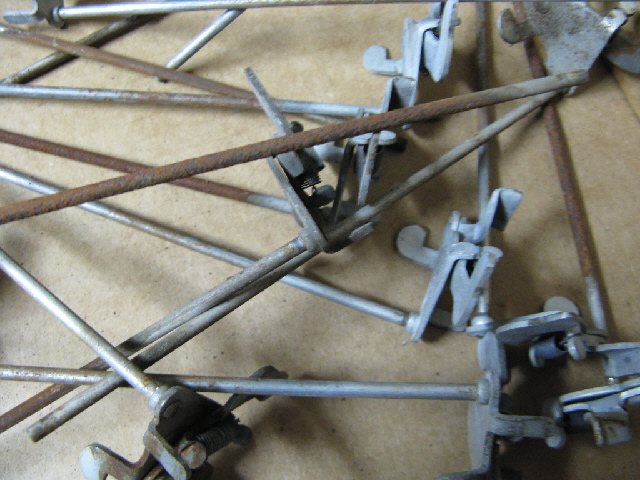 The candy stack (rack) was completely disassembled Coin Mechanism as found, 2 assemblies married together
All 102 shelves removed and their shafts.
Here, the 102 shelf rods have had the rust removed, free movement of
latches assured and were re-painted.
<>
<>
<> Start of rack re-assembly Here all back together 1 pull one shelf drop

<>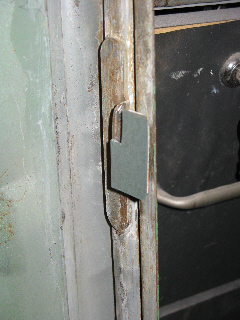 Here is the bottom of the base most rust removed, getting ready to install the new foot mounting plate.
(some of the brown seen is rusty metal primer over spray) Here is a new latch fitted to the front door
The adjustable front feet have had rust removed and adjustment screws drilled out and re-tapped
The horizontal slots seen are for the base front door bottom.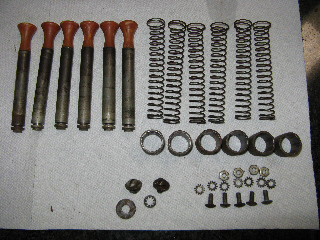 Here are the pull knobs, and hardware before restore Here 5 of the pull knobs cleaned and polished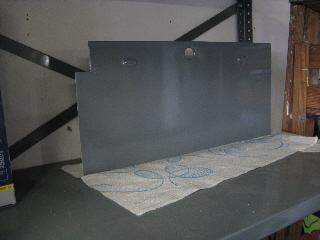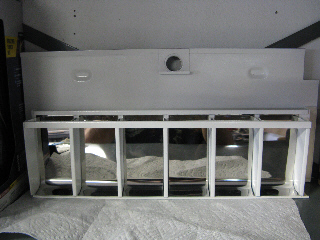 This is the restored candy display door both sides

Though not shown here all screws, nuts, washers and other hardware had rust removed or if damaged or missing were replaced
Some machine threads were re-tapped if needed.

Here the cabinet has been repaired and is being primed, note the original green color under where the mirror mounts was left there intentionally
---
Here are a few showing big steps in the project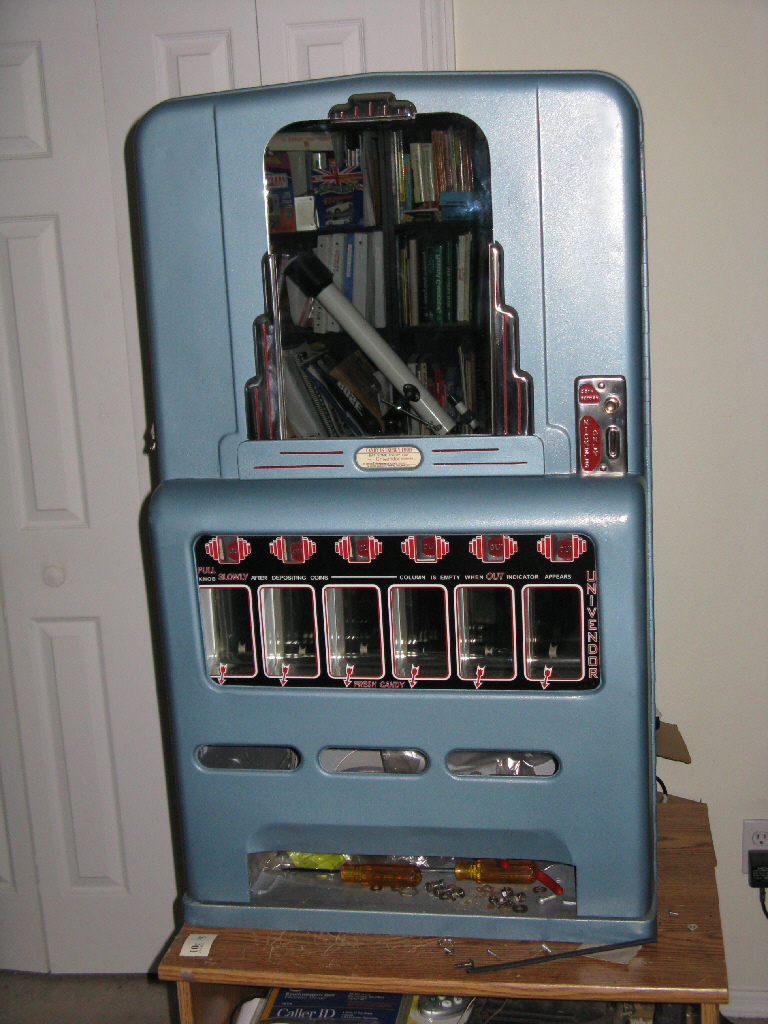 Here it has been painted with a slight hammer like finish,. New glass.

All polished stainless mounted along with bottom mirror trim and coin esc.
Very close here to being done
It's married to the base with the candy display tray installed .
The vending stack to be installed later when it's moved to it's final location, given the weight it will add.
Without it in the cabinet it will be much lighter and easier to move.
This item is not for sale
Here in it's new home.- vending rack installed and candy installed in rack