Click above for larger version of this
The Plan:
My intention on this is to revive it. Meaning, I will not restore it to like new condition, instead, I will restore the aluminum castings to their polished state as it was sold. I will clean and restore the oak cabinet, but leave imperfections. I will try and re-create the side art that was visible after cleaning the cabinet sides.
I evaluated the mechanism and found a missing spring and a few cut to increase tension.
The machine is missing the coin box door and lock as well as the back door lock.
I will find and replace them/
On metal plated parts, they will be replated as most of it is in poor shape/
---
After I purchased this and took on this project, I realized I needed some place to display it. After some research I found Mike at Specialty Stands (specialtystands.com) who makes custom stands for these, from the photos appears to do great work, he also charges very fair prices for his work. (so consider this option) However, funds were a bit limited, so I decided to take a crack at making my own, using the stands he makes as the inspiration.
Mike at Specialty Stands supplied the claw feet to complete the look.
I will include photos of that project here as well.
A big piece of the stand project is the door for it. Some stands seen have a solid door often with a cast logo, my design will use a stained glass window....something new for me to tackle.
---
Beginning of the process to turn back time on the castings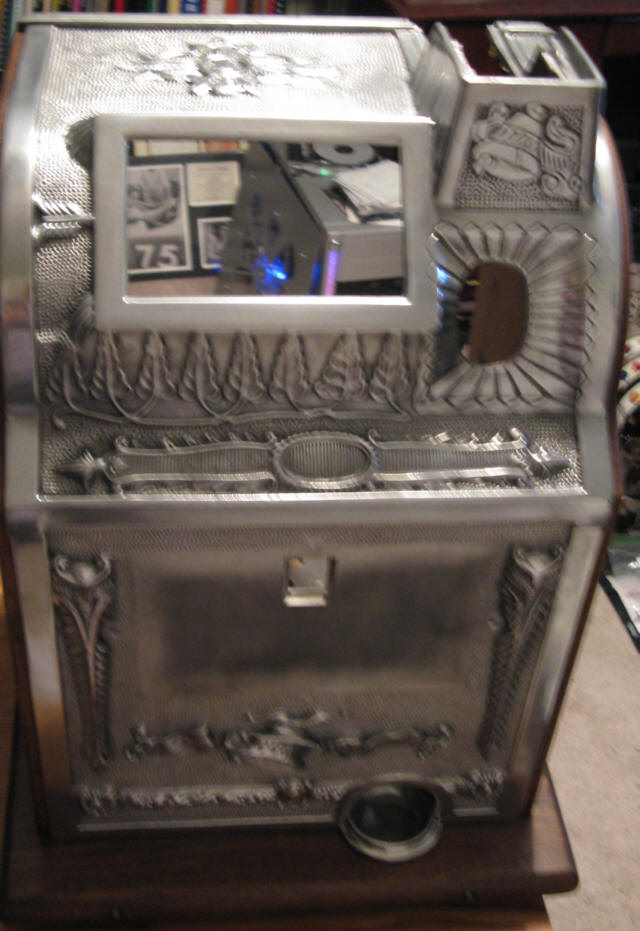 Here it has been cleaned and the oak has been revived ....before final casting polishing and clear coating, (poor photo)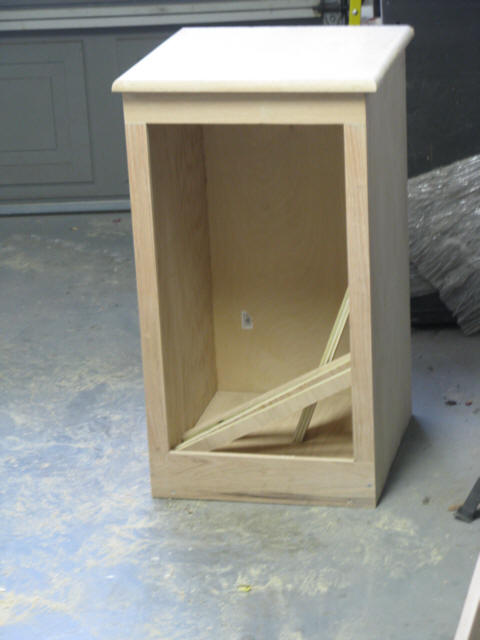 Here is the stand taking shape, that's red oak plywood, the front solid red oak, the top mimics the Mills base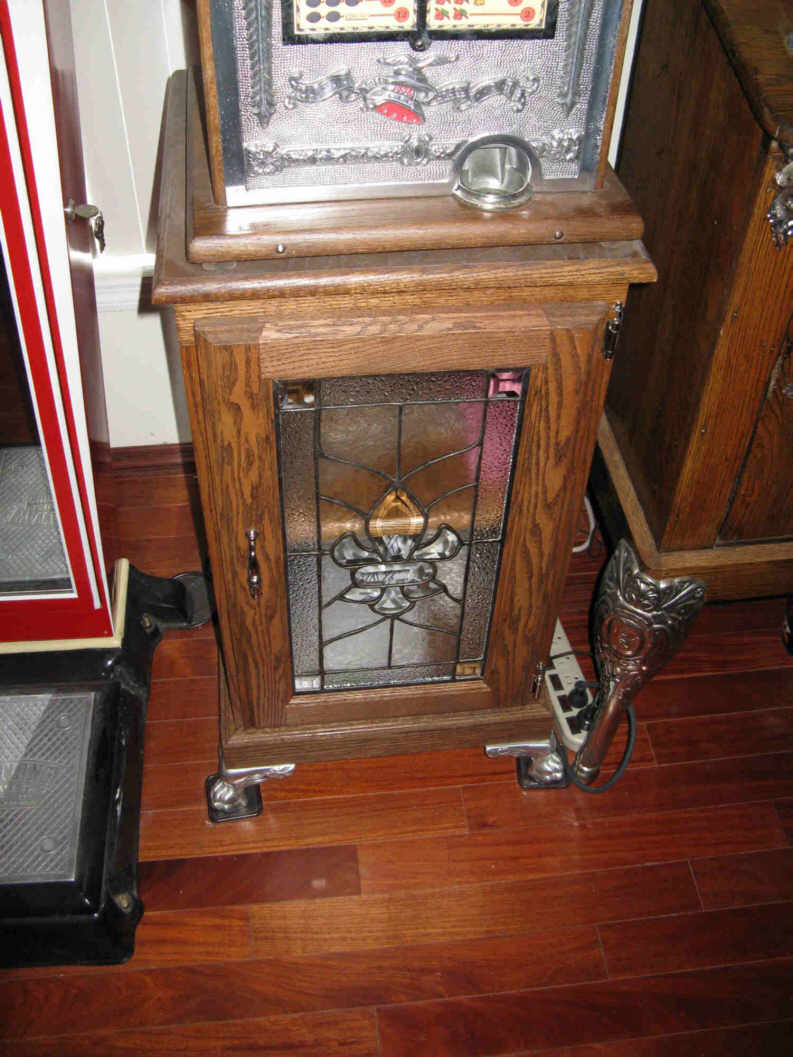 This shows the slot machine cabinet, the polished castings clear coated, less mechanism, sitting on newly created stand for it.
There is a top, bottom and a separate coin cup casting, all aluminum
The glass window and glass lens were also removed , cleaned and re-installed
The door for the stand is a project on it's own, requiring stained glass work, which will come later.
The handle, coin chute, card frame and rear coin chute parts have been re-plated, yet to be installed with the exception of the card frame.
The new aluminum claw feet are installed on the stand
The stand is made from red oak plywood with solid red oak trim.
The bottom trim detail was done with a router table. Red oak is a tough wood
New locks have been obtained and installed on the slot cabinet including a cash box door, which was also missing.
Things left to be done:
Create stained glass panel for door.
(Thanks Maria!)
Install side art
Install door and hardware
Stain and finish cabinet
Replace parts on mechanism and final check on operation
Mount mechanism in cabinet.
Paint some details on casting, date, owl etc.
Install mills decals cabinet sides
Finally either create a stencil, decal, or vinyl to add side art....last step
Latest slot machine photos