SAFARI HUNT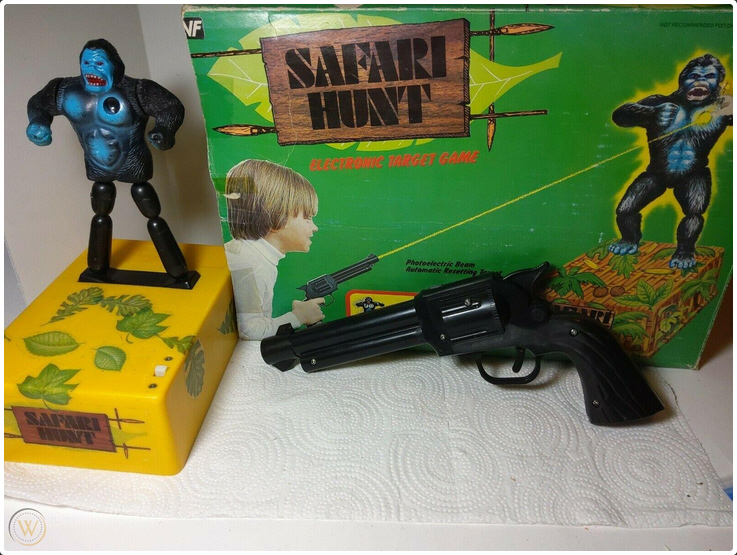 The Safari Hunt Made it here from Canada.
(Check out that face)

The mechanism in the base is identical to the Western Version.
So...what did I find.
The previous owner was correct it wasn't operating correctly.
It struggled to complete a cycle, sometimes stopping completely before it should.
For some reason a previous owner removed the chassis screws, then returned only one screw, a incorrect size screw.
There are good reasons why the chassis needs to be secured properly. First there is a lot of torque applied to the steel cables to raise the character
and it needs to be straight.The second over looked by a previous owner, there is a wire attached to the chassis by one mounted screw.
That wire, provides the second half of the switch that the control board uses to determine the at rest start and stop position.
The one screw put back to secure the chassis was where the switch return wire is located and was too long to ground the wire.
The holes in the mounting posts are shallow, The screws used are very short, with a narrow diameter
Forcing longer and larger screws into the posts could cause them to break the posts or have them go through the cabinet top.
Note: the art on the cabinet is all individual labels
A few Tech Tips:

Do not misplace the mechanism chassis screws or the control board screws if removed as they are almost impossible to replace. the size and length is critical.
A quick mention about dealing with screws used with plastic posts. A common mistake is to press down hard on a screw when trying to remove them from plastic.
Never do this, the post can be stripped out of the material inside it, or worse cracked or worse yet snapped off.
Use the correct size screwdriver and use just enough force to keep the screwdriver tip in contact with the screw.
Last, never put larger screws in posts, everything mentioned above can and probably will happen.
I can't tell you how many cracked, split, or broken posts I've seen on products of all types.
These posts get more fragile as they age as well.
---
Now mounted correctly, wiring attached, fully tested and operating the way it's suppose to.
Wanted
: A original manual or a scan of one