The left photo shows the underside of this dome trim in poor shape on the right are the parts that fell out removing the trim on the left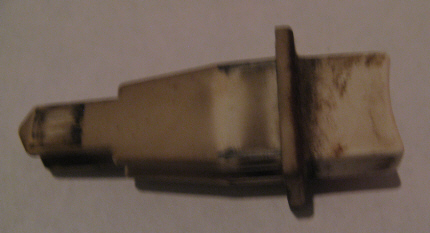 All the buttons cleaned (31)
This is the selector unit. Not shown here, a pin was removed from one of the AMP-LOC connectors,
also from it's mating connector. A molex connector has been added here (temporally). Original AMP-LOC connectors and pins seem to have been lost to history.
As explained later all selector lights were out, turns out they are in series. One out, there all out. This done to drop the 25-26 volts.
This explains why they are not very bright, as the bulbs used are 6.3volt (around 4volts each in series)
Possibly 3.2 volt bulbs can be used, though their life would be shortened and they have a shorter life span to start with. A dropping resistor could be added
As with other components, shown here, dirt and cigarette damage has been removed
I use a strong cleaner, Spray Nine, to remove that damage.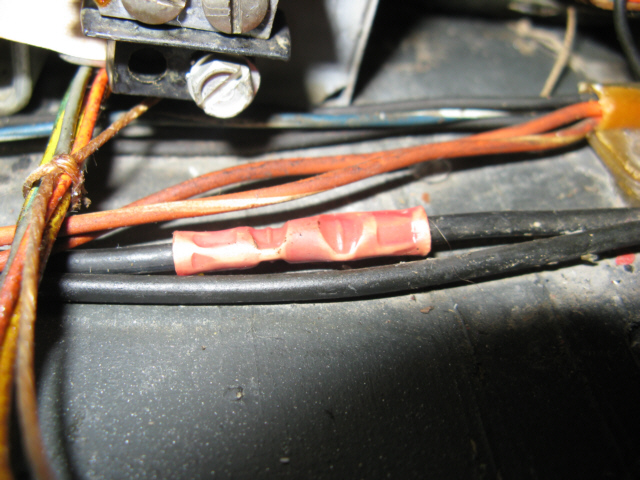 This is one of many crimp connectors used by techs in the past to make quick solderless connections when replacing parts
These are pretty ugly and all need to be removed. This process has started
Update: I have been told by a restorer that has done 50 of these machines that is how the factory connected parts.
So, I have halted removing them, they still are ugly.
Here the title cabinet (radar) and turntable cover have had 60 years of dirt and heavy smoking damage removed.
That cover looks pretty good here but there is some discoloration and minor chips, it will be repainted
The foil label will be replaced.
Here the red anodized effect of these have been re-applied, one was badly faded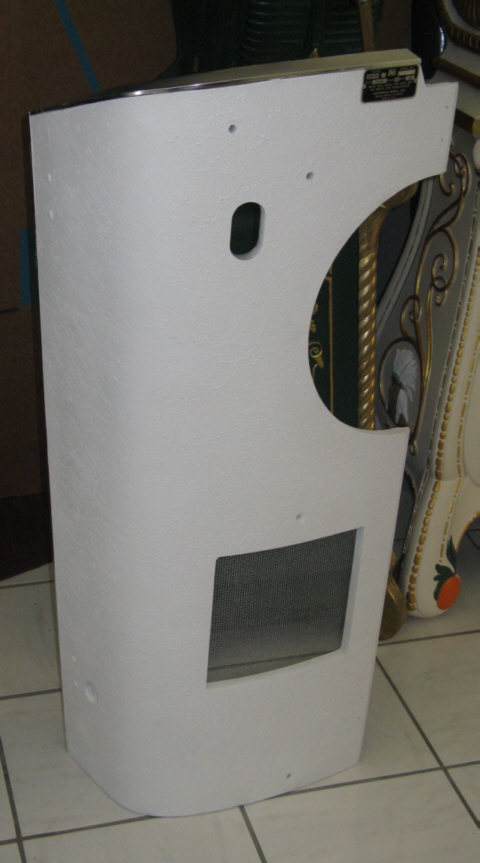 Here the left door after damage repaired, texturing and repaint
This is what the rear cabinet looks like at this stage. I noticed there is one label upper right the needs to be replaced
All non- polarized cords have been replaced, with black non- polarized cords, including the main power supply cord.
---
The majority of the decorative metal has been sent out for polishing a replating.
These were sent to Courtesy Metal
---
More detailed testing and repairs started less amplifier and pre amp.
Sometimes the nation would eject right after placing a record on platter.
All switches were cleaned and tested, including cam switches. NO contacts to tested to show no resistance, NC contacts to show close to zero ohms
After adjustments and cleaning the machine became more reliable.
This machine has a feature that all of them don't have called automix, a feature that allows extended play 7" 33 1/3 records to be played.
The final operational test was to put a 7" small hole 33 1/3 record in the rack and select it. It didn't work.
I was educated by restorer Zuddie Smith, that the platter and it's spindle appear to be setup wrong .
On this Jukebox, the platter by default is set to play 33 1/3 small hole records.
When a 45 rpm record is selected and placed on the platter it's detected by the jukebox and 2 things happen,
it changes the playing speed and also raises the 45 adapter in the center.
Unfortunately. this jukebox did not do this. The 45 adapter was always in the up position, which is incorrect.
The reason for that turned out to be the addition of a washer and large nut added under the 45 adapter to keep it up.
This was probably done because at sometime in the past, a nylon piece part of the platter assy was lost.
Without it, the center adapter would have stayed down permanently not allowing the jukebox to play 45's
With the change that was made, it could no longer could play 33 1/3 records but could play 45's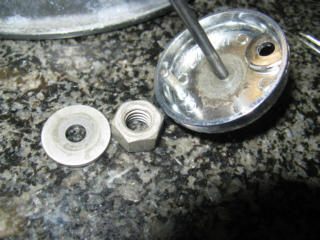 This turned out to be part of the reason the 45 rpm to 33 1/3 conversion didn't work.
Turned out it's actually, 33 1/3 conversion to 45 rpm speed (automix)
This seems backwards, from a design point of view, since 95 % of the records were 45's that would be played.
Possibly the anticipation was the the mini lp's would take over the market?
It was also missing an extension piece (the replacement not show here) which normally allows the 45 adapter to lift up.
With this arrangement it was always in large hole 45 rpm mod and only play 45's.