1920's Bennett Automatic Machine Company Drop Card Viewer

With Top Cabinet Crank
Here as purchased. This is a very rare drop card machine.
As of now no other example has been found of this configuration.
It may have been altered after it was built or by Bennett, unknown at this time.
It has a Caille sticker on it but it is not a Caille Bros.machine but a machine made by George W. Bennett.
Original parts needed-
name plate & marquee frame


If your reading this and have seen another example or own one - Email me.
There is a motorized version which looks almost identical except the cabinet is taller and has an electric motor in it's base, no crank, and has a different coin entry.
Email contact
The restoration of this will include new plating on all metal trim , cabinet repair, mechanical / electrical restoration.
Stay Tuned
---
The viewer has been disassembled and evaluated. I have determined that it started life as a motorized machine.
At some point in it's history a change was made. It was converted from a 3D viewer to a straight viewer by exchanging the dual
wedge shaped lenses and their associated mounted with a single magnifying lens to view Civil War drawings from a book
It turns out that the first page of the set is a partial book cover from a book published in 1881, however the remaining images turn out to be
from a another source yet to be determined, I assume another book sacraficed to make this card set.
To complete the transformation the motor and drive shaft were exchanged for a manual crank and new drive shaft protruding from the top deck.
Finally the coin system was disabled , removing the coin tube and knife switch and it was rewired to be powered as soon as plugged in.
I may choose to retain the manual operation or not. Some of this depends if I can locate or can make the parts needed to restore it to motorized.
When motorized, once activated it would run through all 15 photos before returning to the start and standby.
Some of the trim pieces have been "flashed" in gold. This will be removed.
The "U" shaped wood mounted where the marquee frame should be will be discarded. A new frame will be constructed to replace it.
That frame mounts to the 2 cherub castings on the top back deck, which have tapped threads for the bolts that hold it.
---
.
Restoration of the Mechanism
Below is an image of the Mechanism in the cabinet as purchased.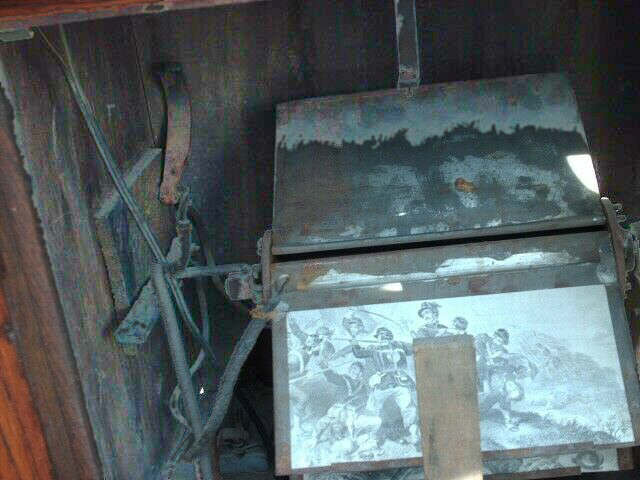 Here new 1/8" steel rods have replaced badly rusted originals, the drive gear has been cleaned and polished along with the drive shaft and activating arm..
Here it's basically finished. It's missing a cap for the side switch activation arm
More coming.....